B & B Race Cars News -
Justin Lamb took home a big win at the NHRA Sonoma Nationals on July 29th. He was racing his B & B Cobalt in SS/CM and collected a Wally for his efforts. Justin cut the tree down and ran a 8.586 beating Dave Rayborn and his slower reacting 8.589 in the final round of eliminations.
This makes the third win Justin has collected at Sonoma, and his Ninth at a National Event. We have a feeling that track is going to be a favorite of his in the future!
Our customers qualified quite well at the NMCA Super Bowl. Darren was driving Don Baskin's GTO in Nostalgia Pro Street, and it was the only car that picked up in the heat of the day. Darren qualified the GTO in #2 spot with a 7.293@188.36. Dave Beeson ran some killer numbers making his competitors worried during qualifying, he busted off a 7.17 in qualifying putting him in the #1 spot and also set a new NMCA NPS ET and MPH record!!
Darren went to the semi's and Dave went on to runner up in the final round. He didn't quite take enough power out to hook the monster Camaro and it spun a little to much letting Joe Bucaro get out on him. You can't complain too much when you can take home runner up money and a New National Record set in the heat of the summer! That still makes for a great weekend of racing in our book! Beeson's Camaro is one of the earliest cars turned out by B & B, and we're excited to see it still out not only going strong, but setting records too! Way to go Dave!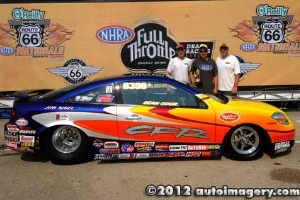 Sean Cour won the NHRA Best Appearing award at Route 66 Chicago in their B & B Built Cobalt! Hard to miss this bright paint job!
Brina Splingaire from North Riverside, Illinois had a good first outing in her new B & B Super Stock Cobalt. At the NHRA Route 66 Nationals she went several rounds and won Best Engineering Award!
B & B's Darren Breaud was driving Don Baskin's GTO in Nostalgia Pro Street at MIR. Darren outran heavy hitter Kevin Parent in the final round with a 7.33 over Parent's 7.38. The Goat was definitely working, it laid down the fastest 60' in the class with a 1.07, not just once but 3 times!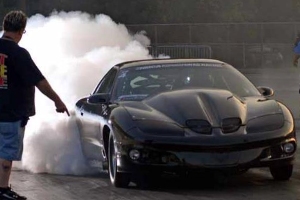 Phil Smith won his first Xtreme Street race in his new B & B built Trans Am. Phil beat Bob Curran in the final round at MIR and ran a 8.02 solidly defeating Curran's 8.18. Phil had the T/A locked in running solid 8 oh's all day making him extremely tough to beat!
Congratulations Phil!!!
Bennie Ryburn from Arkansas picked up his new Drag Pak Challenger this week. We really loved the old school graphics!
And yes, it's got a HEMI!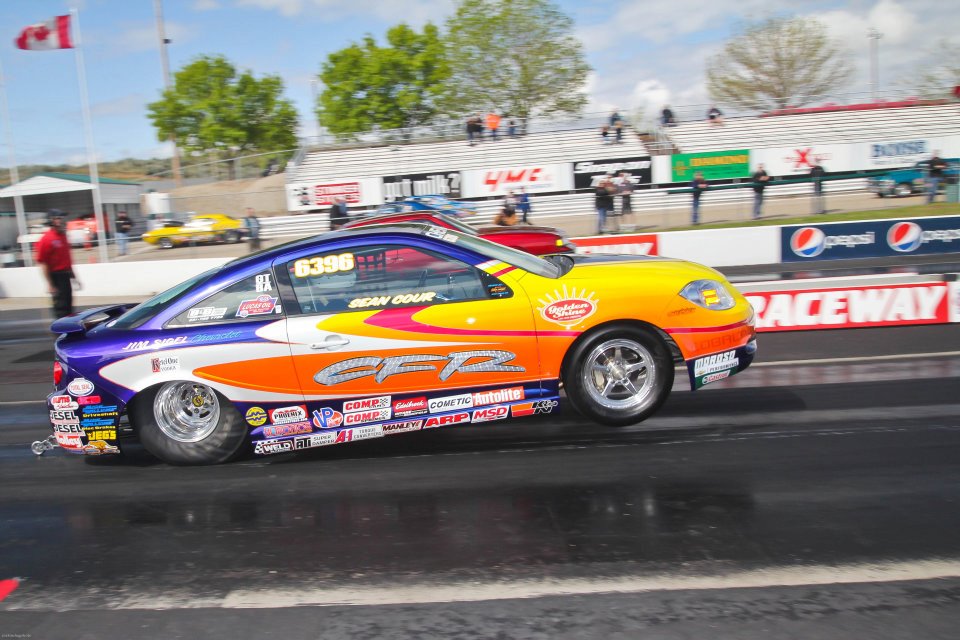 We would like to congratulate Sean Cour on his NHRA Division 6 win in Boise at Firebird Raceway. Sean running in GT/BA defeated Tom Nolan in the Super Stock final round with a 9.428@133.84 over Nolan's 9.454@139.88.
Way to go Sean!
B & B Race Cars would to Congratulate Drew Skillman on his Super Stock & Stock win in Atlanta & ADRL racers Bo Butner and Chris Holbrook on their wins in Super Car Showdown. These racers have the B & B CJ Special Package on their Mustangs!!!!
This is the first year for the ADRL's Super Car class and Bo Butner won the first two in his Supercharged Cobra Jet, Chris Holbrook won the most recent race at Maple Grove Raceway in Pennsylvania.
Marty Pearcy's new 25.3 Dodge Challenger project is underway, as you can see in the photo, the weight savings process has already begun. You can bet there's a lot more to rip out before we're done making her a lean and mean fighting machine.
Marty's going to run the new car in X275, a very popular Heads Up Drag Radial Class. In case you're wondering, Marty's a hard core Dodge man, and it will be Dodge Powered with P5 Billet Heads and a F1X Procharger. Stay tuned, this will be a cool and unique race car...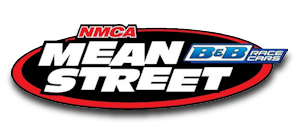 B & B Race Cars is proud to sponsor the NMCA Mean Street class this racing season. We have a number of customers very active in the NMCA Series such as our great customer Don Baskin.
Darren will be driving Don's Blue GTO in Nostalgia Pro Street this year, and Don of course is very active in many classes such as Mean Street, Hot Street, and Skip Baskin is driving the 2011 Camaro built here at B & B. Skip won the NMCA Season Opener in Nostalgia Pro Street!
Competition Eliminator Win at Firebird
Justin Lamb recently collected another big win in Competition Eliminator. The 8-Time National Event Winner took home the Comp win at the Phoenix Firebird International Raceway Pacific Division Race February 26th in his 2008 B & B Built Cobalt. That's a good start for sure for his 2012 Season!
This win follow's Lamb's 2011 Division 7 Comp Championship he won back in November, that was his second career championship!
Congratulations Justin!!!
Congrat's to Gary Richards for his win in Super Stock at Gainesville Raceway! Gary from Bay Shore, NY defeated Jeff Strickland with his B & B Built 2010 GT/AA Mustang by running a 5.788@118.69 over Strickland's 6.715@98.85.
That's a GREAT way to start the season guys!
Also big congratulations to Anthony Bongiovanni, who qualified number one in Stock and also in Super Stock with his Cobra Jet Mustangs at the NHRA divisional race in Gainesville.
Anthony laid down the fastest ever pass by a Mustang, ever. He ran a 9.267, -1.033 under the index, which is the quickest ever in Stock Eliminator. Wow, that's quite an achievement right there!
B & B will soon be adding a new Racing Parts Business to the company and work on our first catalog has already begun. Some of the more unique parts we will have available will be new Cobra Jet Pedal Assemblies and Dodge Drag Pak parts, along with other specialized components that we manufacture in house.
In addition to B & B Racing Products, we're also dealers for Strange, Racepak, RPM Performance, Mark Williams, Dewco, Weld Racing, K & R Performance, Santhuff Shocks & Struts, Nitroplate, Mickey Thompson Tires & Wheels and Patterson Racing.
B & B Race Cars and Hohenwald Fabrication announced the move to a much larger shop right after New Years.
The new building located in Hohenwald, at 228 Industrial Ave. has 66,000 sq. ft. of space and has lots of storage and parking available. We began moving cars and equipment on the 19th of January and by the 16th of February we had most everything moved over to the new shop. And it all fits!
It was a very busy month for the crew at B & B and a lot of work moving everything but they knocked it out in record time.
B & B now is offering Rig Storage, both inside and outside available so give us a call if you need a safe place to store your Rig. We also have 35,000 sq. ft. of warehouse space available, again call for details if you need some space.